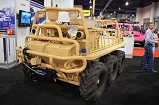 > Reader's Photo


OX5 by Lockheed Martin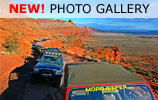 • ADVERTISE WITH US
• WHO IS MOAB JEEPER?

Home > Jeep Articles > General - Extras > More offerings from Daniel Stern


General Articles - Extras
---
More offerings from Daniel Stern

Article written by Dr. Jones



Date Added: 10/02/2009



Okay, you?ve got your upgraded wiring harness done. You?ve got your high performance headlight housings installed. You?ve entered a whole new world of nighttime driving joy you never knew existed? Now what?

What else can possibly be left at this point? Well, let?s put in another call to Daniel Stern and see what kinds of toys he can send us.
Got Bulbs?

The standard 65w/55w bulb. This is the same wattage as your standard sealed beam headlight. This is probably the bulb you?ve been using with your new housings. It?s amazing how much more light a quality bulb puts out, and the color temperature is perfect; not too yellow, not too blue. In conjunction with your new housings, this is the best bulb for driving around town at night with occasional trips beyond city limits.

The next step up, 70w/65w. This bulb is basically the same as the fist one, just a bit brighter. This is about the highest wattage you want to go if you?re driving around other people (and police) frequently. Once you leave city lights, though, the extra wattage becomes obvious on really dark roads.

Our personal favorite, 100w/55w. This bulb has the same low beam as the first bulb making it ideal for city driving. Just be sure you don?t use your high beams when there are other cars around. We like this bulb because we?re right next to the mountains and miles of dark, deserted roads. So we can run around town with the low beams on, going about our business like everyone else. Then once we slip out into the wild where few other motorists dare travel, we flip on the high beams. Consider yourself warned, flipping that switch requires a certain mental preparedness. The intensity of the light coming out of the front of your Jeep will almost certainly put your nervous system into a temporary state of shock. You?ll probably want to be wearing sunglasses the first couple times you try.

Off-road only 100w/90w. Do NOT us these on the street. Sure you may think ?As long as I can see well, I don?t care if it?s blinding other drivers.? Well guess what, we?re ALL other drivers, and I know you wouldn?t want to be on the other end of these bulbs. Also if the guy coming the other way is temporarily blinded, he?s a lot more likely to swerve across the median and kill you. That said, these bulbs are great off road, but there if you?re going through the trouble of swapping out bulbs for your wheeling trip, there is a better choice?

Off-road only 100w/130w. The big boy. All the same do-not-use-on-road disclaimer info above applies double to these bulbs. Drive out to the trailhead with your city-driving bulbs of choice and swap these in while everyone is airing down and disconnecting their swaybars. After the trail, swap your street driving bulbs back in. And while on the trail make sure to keep reminding everyone on the radio that they?re not being followed by a police search helicopter, it?s just your headlights. Seriously, if you need sunglasses for the 55w/100w bulbs, you need a welding helmet for these. The wide, flood light coverage of the Cibie (or whatever Daniel recommends for you) housings spreading out 100w of solar fury causes a different kind of system shock. This shock comes when you look out the side window and suddenly realize it actually is still night time outside. And then? there?s the high beams.

Only flip these on if the person in front of you is far enough away that you don?t set the back of their Jeep on fire (or the back of their head if the top is off). The beam pattern will loose some of the flood area, but you?ll be able to tell everyone if those clouds on the horizon look threatening or not as you fully illuminate them 50 miles away (okay, slight exaggeration. But they are damn bright).


Yellow Filters: For use with lower wattage bulbs only. If you live somewhere in the world that receives regular snowfall, slip these over your bulbs for the winter. As you no doubt know, when you?re driving at night through the gently falling snow your headlights do an excellent job? of completely blinding you. All that light reflecting off the white stuff in the air shines right back in your face, not down the road where you?re going. First of all, you?ve probably also noticed the sharp cutoff of the E-code housings you?re now running make a huge difference, but we can do you one better. The yellow pass filters change the color of the emitted light to the glare off the falling snow is significantly less noticeable, so you can focus more on the light being projected down the road where it matters.

Daniel also has a large assortment of other bulbs. Actually we?re pretty sure he has EVERY bulb you could possibly need, and they?re all top quality.

Check out the high performance turn signal bulbs he sent for our TJ.


Final Thoughts

These are just a portion of what Daniel Stern has to offer. Check out his website, send him an email, or give him a call to talk about anything else you can think of for lighting your way.
---