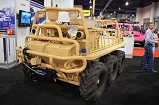 > Reader's Photo


OX5 by Lockheed Martin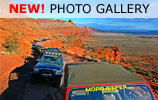 • ADVERTISE WITH US
• WHO IS MOAB JEEPER?

Home > Jeep Articles > General - Extras > Guide To Moab, UT Backroads and 4-Wheel Drive Trails


General Articles - Extras
---
Guide To Moab, UT Backroads and 4-Wheel Drive Trails

Article written by Moab Man



Date Added: 05/04/2008



In Moab there are two things that have become as reliable as the setting sun: Jeeps on the trails, and Charles A. Wells book, Guide To Moab, UT Backroads & 4-Wheel Drive Trails being in those Jeeps.

For those that have yet to go to Moab, and intend to, pay close attention. And those of you that have been there, it?s time to retire your 1st edition Guide To Moab, UT Backroads & 4-Wheel Drive Trails .
More than 8 years ago Charles A. Wells started mapping out trails in his Cherokee and Grand Cherokee recording detailed driving instructions, odometer readings for making turns, and GPS coordinates. Suddenly the trails of Moab were open to everyone. No longer was it a matter of making your best guess on where to go and hoping it all worked out right.


As much as this book was worth its weight in gold, it did have some drawbacks. Most obvious being the fact it is a book. The hard spine required someone holding the book open so as to not lose your place. Constantly flipping through the book to find the same trail gets old quickly. Sure, some of you "thinking" people might turn to a bookmark. But in MOABJEEPER Magazine fashion, we tested the bookmark theory... it often fell out while bouncing over rocky trails.

The other frustration was the location of the GPS coordinates being lumped together in the back of the book. This meant flipping back and forth between the map page and the coordinates page while out on the trail.

Enter "Guide To Moab, UT Backroads & 4-Wheel Drive Trails" 2ND EDITION.

Obviously the books come from the same gene pool, but it?s like comparing Chrysler K cars (for those not old enough to know this car? you?re fortunate) to the modern Chrysler 300 luxury car.

The most obvious improvement: the new book has a spiral bound spine. The book lays flat, can be completely folded over so you don?t lose your place, and there is no glue to break down allowing pages to fall out.



Opening up the book, you will find the same familiar layout but with COLOR! Just like being there, the colors of Moab jump out at you showing all the beautiful red sandstone, snow capped La Salle Mountains, and the green desert vegetation. This alone makes this book a worthy step up from its black and white predecessor.

The maps are also in full color. Before, all the streams, trails, and boundaries were marked by varying shades of gray lines. As an additional feature, most of the new maps have a relief background showing the lay of the surrounding land.


Once you pry your eyes away from the color maps, take a look further down the same page at the new home of the GPS coordinates. That?s right; they?re no longer all crammed together on a few pages in the back. Each map has its corresponding coordinates right there for easy navigation. Imagine how much nicer picking your way through a new trail is when you can immediately identify your location on the map.

To further the 2nd Edition?s pleasing appearance, a slight touch of color has been added to the text as well. The narrative navigation of the book works off of ?Reset odometer? at certain trail points. You then continue driving until the next ?Reset odometer.? It can be hard enough with everything else going on to miss those reset points in the paragraphs of text. No longer though, each ?Reset odometer? is now in red print.


We have covered all of the improvements on the book, but what about some of the new stuff that is not in the old?

The 2nd Edition has 10 new trails added, updated trail information (it has been 8 years), and the addition of a TRAIL UPDATES logo and web address throughout the book. At Charles?s website www.funtreks.com, you can get updated information about your book.

For example, copied from www.funtreks.com, there is a typographical error in the 2nd Edition books you should be aware of.

Tusher Tunnel, Trail #4: Typographical error on Waypoints 3 and 4. North reading should be 38 degrees, not 39 degrees. Balance of coordinates are correct.


Final Thoughts

We can?t say enough positive things about this 2nd Edition book. The color pictures really show the brilliance of Moab, color maps with same-page GPS coordinates make navigation easier, and the spiral binding makes the books so much simpler to use while grabbing a quick glance as you bounce over the Moab rocks.

Here is where we must put some rain in the forecast.

We spoke with Charles during Easter Jeep Safari 2008, and he shared with us that many places will not carry the book with the spiral binding. Our estimation for this refusal is the ease of packing and shipping of hard spined books. So yes you can find the 2nd Edition locally with a traditional spine, but to get the spiral bound version you need to visit Charles website www.funtreks.com. And because we hate surprises, be aware that when you order your book, the spiral binding costs $5 more. PLEASE don?t hesitate on selecting the spiral binding option, it is well worth it and you will most assuredly kick yourself the first time on the trail if you don?t get it.

---

To Purchase
To purchase this book, or any of the other excellent off-road books, contact Fun Treks Guidebooks and let them know you read it here.

Online: www.funtreks.com

Call toll-free: 1-877-222-7623
They accept Mastercard, Visa, Discover and American Express.

Fax: 1-719-277-7411
Include book(s) desired, name, address, telephone number, credit card number and expiration date.

Mail: FunTreks, Inc. P.O.Box 3127 Monument, CO 80132-3127
Include book(s) desired, name, address, telephone number and a check.

Our Thank You's!

We would like to thank Charles and all his crew. Seldom is there a product that gives back so much more than what it costs.
---