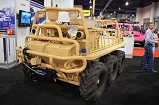 > Reader's Photo


OX5 by Lockheed Martin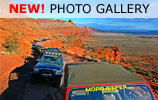 • ADVERTISE WITH US
• WHO IS MOAB JEEPER?

Home > Jeep Articles > General - Extras > Pro?s Corner: Bestop


General Articles - Extras
---
Pro?s Corner: Bestop

Article written by LeeAnne Slycord, Customer Service Supervisor



Date Added: 02/24/2008



Who knows what percentage of short wheelbase Jeeps on the road and trail today are of the hardtop flavor, but suffice to say that they represent a microcosm of the Jeep world. Soft tops rule, and for obvious reasons.

First, they cost less when new than their hard top counterparts. Second, the open-air freedom soft tops deliver is a huge part of the appeal, and has been a key feature of the Jeep from day one.

Nevertheless, soft tops can be a source of high anxiety, aggravation and blinding frustration when things go wrong. Over time seams rip, plastic windows deform, become hazy and are susceptible to scratches, bow systems rust, bend and break, and fabric simply rots away. In other words, soft tops require attention on an ongoing basis, and when the inevitable replacement comes around, you need knowledge on your side to make the most of your investment.

To get you the answers you need for maintaining or replacing your CJ or Wrangler soft top, we went o the folks who know more about these buggers than anyone in the business. Bestop is the first name in replacement tops, and they?ve been an OE supplier for new Wranglers for several years.

QUESTION: Let?s start with maintenance of a soft top. One of the fastest areas of deterioration is the plastic windows, which haze over, discolor and inevitably suffer from creasing, scuffs and scratches. What are the best methods and products to prolong the life and looks of your original top and door plastic windows?

BESTOP: The first thing to remember is that keeping it clean really is the best way to prolong life of the windows. Item number one is a soft rag. We use cloth baby diapers here. Remember to never wipe the windows when they are dry?it causes scratches. There are several products on the market that will help to keep them ?living? longer. Bestop offers a polish for the windows, but if you don?t have that, good ?ol dish washing detergent and a lot of water works just as well. Our Bestop window polish, as well as some of the others that are out there, are able to clear up the small, small scratches that sometimes get on windows, but they don?t take out everything. The sun helps with some window recovery, in conjunction with polishes.

Cleanliness is the key to keeping your soft top windows clear and functional. You can use nothing more elaborate than dish detergent, water and a clean soft rag, such as cloth baby diapers, to do the job. Specialty cleaners like those made by Bestop are also great when used properly.



QUESTION: In spite of regular maintenance and care, plastic windows will eventually succumb to the ravages of use and age. When this happens, what products or procedures can be used to remove surface marring or restore translucency on plastic windows? Is this even possible?

BESTOP: Unfortunately, there is a point of no return when it comes to windows. The best thing to do is replace the windows when you need and can afford to do so, to keep your Jeep looking good and safe to operate.



QUESTION: Top and door fabric are other components of a soft top that are susceptible to deterioration. Where are the most vulnerable areas of a soft top for deterioration, stress and/or ripping, and what can be done to prevent this?

BESTOP: Again, keep it clean. Bestop offers a Cleaner and Protectant that have solutions which are not harmful to the fabrics used to make our products. When all else fails, again, dish soap works.

I don?t know how to say this without sounding negative, but Armor All is the WORST thing to use on a soft top because it causes dry rotting. Your top looks pretty and shiny, but it is killing the product. When customers call in here and proudly announce that they have put that product on their tops, we cringe. It eats the thread. Keeping the top clean is the best protectant out there. Bestop Protectant and Cleaner is a second alternative.

As far as the doors go, following what was recommended for the windows applies to the door windows and the doors. If you vacuum your Jeep, vacuum the zippers. Getting that grit out of the zippers prolongs their life. Lubricating the zippers with a soft (sewing machine) oil or a bit of liquid soap keeps the sliders moving smoothly.

As far as ripping seams and fabrics, keep in mind that we tell people to put their top out in the sun to help the fabric to relax and be more pliable. If you have adjustable hardware, remember that if it is hot you will need to adjust your bows to allow your top to tighten up. In the fall, you need to adjust your hardware in the opposite direction to allow your top to contract. You will see Jeeps out there where the top is looking so tight to the hardware (particularly in the colder months) but when the fabric contracts, and if the hardware isn?t adjusted, it stretches a top in ways that just aren?t pretty. It?s like when you hang a T-shirt on a coat hanger that is too small and you get hanger lumps in the shirt. That happens to soft tops when the hardware isn?t adjusted to allow the top to contract properly.

Specialty polishes can also be used to remove minor blemishes from plastic windows (but not the more serious scratches). Following the manufacturer?s instructions, apply the polish as directed and buff gently with a clean, soft cloth.



QUESTION: What products and procedures do you recommend for maintaining and prolong the life of soft top fabric?

BESTOP: Bestop® Cleaner, Bestop® Protectant and also Bestop® Vinyl Window Cleaner. See previous question for additional information.



QUESTION: Regarding fabrics, there are several types and weights on the market. As with most things, there is usually a trade-off between price and performance. Explain the different types of fabrics consumers will encounter in a replacement top, and the advantages and disadvantages of each.

BESTOP: Denim Fabrics ? Bestop and Chrysler have used the Denim fabrics for years. Two-ply vinyl is a ?tried and true? fabric that people with TJs through 2000 have had their vehicles delivered in. These are a standard Jeep top fabric. This fabric has worked great with everything that we have used it with for the 50 plus years we have been making soft tops. Sailcloth ? fabric was introduced by Chrysler in 2001. This fabric is a 4-ply fabric. It is heavier, stiffer, a bit more resistant to a tree limb, and makes for a bit quieter ride. This heavier fabric is stiffer, and in the winter, as with any thick fabric, it is going to lose some of the flex when compared to the denim fabric.

Sailcloth from 2003 and newer ? A new Sailcloth was introduced in 2003. It is called a Diamond Fabric. It has the best of both of the previous listings. It is a 3-ply fabric, it sturdier than the denim, and allows a bit more flex, but still allows for a quieter ride and a sturdier existence.

Protectants can also be used to enhance the looks and life of soft top fabrics when used properly and as part of a regular cleaning regimen.



QUESTION: Replacement tops, upgrade replacement tops and specialty tops (such as Bestop?s Sunrider, Halftop and Tigertop) come in a wide variety of materials and configurations, often making it difficult for consumers to choose between them. What are some of the key aspects of any replacement top, upgrade replacement or specialty top that consumers should look for and consider when making their purchase?

BESTOP: Customers are going to see the Denim fabrics on Supertops® and Sunriders® for vehicles through 2002. We offer our line of full top replacements in the Denims up through that model year.

The 4-ply Sailcloth (Bestop?s Replace-a-top?) is used as a replacement top for the factory original hardware only. The Sailcloth of 2003 is going to be seen in our product offerings as of 2000 through to the present. These are the Diamond Fabric listings. This fabric is what Chrysler uses now on their original tops, and it is what we use on our tops as well. Again, it gives the best of both worlds.

Top Personalities: SuperTops® ? All come with their own hardware; with or without doors; and with clear or tinted windows. These tops work with the factory full steel doors. The windows in the tops all zip completely out. This top attaches to the vehicle with either our patented belt rail system or the body of the vehicle, depending on the model year. The top can be folded completely down for open air driving without complete removal. These are complete kits that have everything that you need to install them.

Sunriders® ?All come with their own hardware. Doors and tinted windows are available separately. The top works with SuperTop® door kits and the factory full steel doors. This top attaches to the vehicle with either our belt rail system or the body of the vehicle, depending on the model year. The windows in the top all zip completely out. The top allows for the owner to open just the front section of the top or fold completely down.

Halftop? ? Hardware is included for the installation. For the TJ owners with factory door surrounds we do allow for the customer to keep those on, and add hardware to them. We also offer a kit for the TJ owner that only has a hardtop. This top attaches to the vehicle with either our belt rail system or the body of the vehicle, depending on the model year. It works with Supertop doors or Full Steel doors. The rear window zips out. The top can flip open for a sunroof effect.

TigerTop? ? Tigers come with all the hardware that is needed to install. These tops are a full one-piece top. The kit comes with full one-piece doors. This top attaches to the body of the vehicle with snaps. The windows have zippers that allow for the windows to be rolled to have open air driving.

You don?t simply pull your new soft door widows out of the box, install them and expect a perfect fit. They must be adjusted somewhat for a proper fit and seal.



QUESTION: What are the five most common questions or problems customers approach you with, and what do you propose to solve them?

BESTOP: How fast can I drive with my soft top on?
We recommend that you observe your manufacture?s recommendations for your vehicle. We also hope that all laws are adhered to when driving. Other than that, have fun and enjoy.

How come my doors don?t fit?
If you get two-piece doors, sometimes you have to do some adjustments to make them fit. The handles have a bit of adjustment in them, and the lower pivot pin is also adjustable. Remember that a little goes a long way.

My instructions tell me to ?bend? my doors. Why do I have to do that?
We make the doors and put them in a box. We used to try bending them before they left here, but found that the doors were flattened back out by the time they got to their final destination. The doors are going to stand straight up when they go on a vehicle for the first time. You need to bend them to help them to fit your vehicle.

I took my Bestop top off for the winter, and now that it is spring I want to put it back on, but I can?t find all of the pieces. What do I do?
Bestop offers replacement windows and all the hardware for any of their products. Call the Customer Service Line (800-845-3567) and anyone here will be happy to help you get the pieces that you need.

How do I make my top last and last?
Keep it clean. That is key!

SOURCE
Bestop, Inc.
(800) 845-3567
www.bestop.com


Final Thoughts

We appreciate the straight answer on maintaining our Bestop soft top.

Our Thank You's!

LeeAnne Slycord, Customer Service Supervisor for Bestop

Photography courtesy of Bestop
---