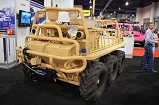 > Reader's Photo


OX5 by Lockheed Martin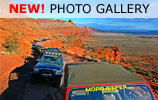 • ADVERTISE WITH US
• WHO IS MOAB JEEPER?

Home > Jeep Articles > General - Product Reviews > Craftsman LED ?Anywhere Clip-Ons"


General Articles - Product Reviews
---
Craftsman LED ?Anywhere Clip-Ons"

Article written by Moab Man



Date Added: 01/15/2007



At first glance it might appear that Craftsman Tools is now selling coal. And many of you were thinking this is just what Moab Man got for Christmas.

However, to burst your bubble, this is a sweet little case containing a set of LED lights for the home mechanic, avid camper, or simply someone needing a light when you lack that third arm to hold a flashlight.
Each light uses two lithium 3 volt CR-2032 watch type batteries. Advertised battery life is fifty hours continued use. From past experience with LED lights, I would expect this to be true.

Attached to each light is a small rotating plastic alligator clip that can be attached anywhere: brim of your hat, clipped to a tool, even attached to the arms of your glasses. Set into the plastic clips are two small, but powerful magnets, so the light can be stuck to many metal objects.


One issue I noticed is the little magnets are not attached very well. In my opinion this is really not a big deal since most people will clip them to the brim of their hat or glasses more often than they?ll use the magnet. For the heck of it, though, I did use some better epoxy to truly cement those little magnets to the clips.


Final Thoughts

These lights are incredibly versitile and compact and anyone who has worked on their Jeep at night knows how hard it is to get a light right where you need it. Plus with a full one year warranty (not including battery), what's not to love?
---