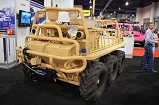 > Reader's Photo


OX5 by Lockheed Martin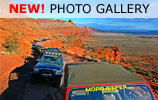 • ADVERTISE WITH US
• WHO IS MOAB JEEPER?

Home > Jeep Articles > General - Press Release > TeraFlex Dual Rate S/T Swaybar System


General Articles - Press Release
---
TeraFlex Dual Rate S/T Swaybar System

Article written by TeraFlex (Press Release)



Date Added: 12/02/2006



Murray, Utah- November 17, 2006. Tera Manufacturing, Inc., manufacturer of TeraFlex suspensions, low range gearing and HD axles, and pioneers in the off road swaybar market introduces their newest suspension accessory ? The Dual Rate S/T Swaybar System.

The TeraFlex Dual Rate S/T (Street & Trail) Sway Bar system is one of the most advanced disconnect systems available, with its easy engagement knob you can go from street to trail in seconds ? literally!

The Dual Rate features two torsion bars, one for heavy duty highway handling and one tuned for off road articulation. Engaged in the ?street? position, the bar allows for a stable highway drive. Disconnected in the ?trail? position, it allows your vehicle to articulate and your tires to bite despite the terrain with balanced suspension travel with enough resistance to limit excessive body roll when in off camber and sidehill situations. It also helps to maintain and keep constant the vehicle?s center of gravity by keeping the vehicle weight distributed evenly. To disengage the swaybar with the S/T system, simply twist the knob ¼ turn clockwise and you are on your way. To re-engage, rotate the knob counter-clockwise and the swaybar will self-engage when the vehicle is level.


Extensive testing and engineering gained over the last several years from the Standard S/T Swaybar provided a solid platform for the Dual Rate Swaybar. The proven design came after several other designs such as hub or actuated designs failed. The high-strength spring-loaded hardened engagement pin is tapered to eliminate free play, and provides a long term wear free surface that does not ?mushroom? or become deformed from repeated use, but remains solid and tight after every use. The split bushing design used on the trail torsion allows for an increase spline diameter to compensate for the higher load capacity needed when articulating. The heavy duty arms feature adjustable mounting locations and is bent to follow the contour of the frame for maximum tire clearance.


The TeraFlex Dual Rate S/T Swaybar System features applications for all JK, TJ, and YJ Wrangler models including the Rubicon and Unlimited. The Dual Rate comes complete with HD street torsion bar, trail torsion bar, HD arms with adjustable mounting holes, self-lubricating bushings, adjustable links, and all necessary hardware.


TeraFlex products are only available through authorized TeraFlex Dealers. For a complete list of Dealers in your area, or for more information, contact TeraFlex at 801-288-2585 or visit them on the web, www.teraflex.biz.


Final Thoughts

MoabJeeper - Good to see a fresh idea in the swaybar market.

Our Thank You's!

Thank you for the Press Release.
---