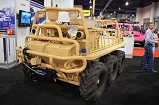 > Reader's Photo


OX5 by Lockheed Martin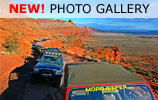 • ADVERTISE WITH US
• WHO IS MOAB JEEPER?

Home > Jeep Articles > General - Product Reviews > Random Technology Catalytic Converter


General Articles - Product Reviews
---
Random Technology Catalytic Converter

Article written by Adventure Bob



Date Added: 04/28/2006



The Gofer (Grand Cherokee) is hitting that magic age - 150,000 miles - when everything begins to fall apart.

The latest ailment is a hideous rattling noise underneath the passenger side. (Imagine driving your Jeep with a rock-filled coffee can bolted to the bottom.) This noise is unique enough that even an amateur should be able to diagnose the problem immediately, with the culprit being the original catalytic converter and its ?life of the vehicle? construction. The factory cat is a metallic shell encasing a brick of catalyzing agents. Over time, the brick breaks loose from the housing and begins the death rattle. This condition not only annoys your neighbors, but it probably restricts exhaust flow and cuts performance. The solution, if you are within warranty, is to take it back to Jeep and have it replaced. If, like the Gofer, your warranty expired years ago, you should look for an aftermarket replacement, since the Jeep part is expensive and returns nothing in terms of performance.
When I went searching for an aftermarket high flow cat that could outlast the stock part, I found Random Technology. My normal remove and install articles include how to do the work and warnings on how not to do it. Random Technology markets the cat I tested as a ?direct fit,? but the condition of my exhaust did not allow a simple bolt in. Because exhaust clamps had crimped the original cat, it could not be undone without mutilating the pipe - so off to the shop it went. This is not to say that the Random cat did not fit the stock exhaust tubing; I?m simply warning you that you may have to take it to a shop or cut the old cat out yourself, if you have the capability.

The first thing I noticed is that the Random cat is a very nice piece of workmanship. The manufacturers pay extreme attention to the welds, and the cat feels very solid. I have a Carsound on the Turtle (94 Jeep Wrangler) and it feels a little ?flexible? compared to this product. The heat shield side of the Random cat is also very stout and offers a good thermal shield.

Installation

Note: You may have to take your Jeep to a shop unless you have a torch and a welder.

Step 1 Remove the old cat and dispose of it properly.
Step 2 Install the new Random Technology cat.
Yep - it?s that easy

Performance

The immediate difference is in sound. My exhaust note has a deeper rumble, and the box of rocks noise is gone.

But, there is only one true way to measure engine performance, and that?s with a dyno, checking the before and after conditions. My testing methodology was simple - run the Gofer on a dyno with the box of rocks, change it out, and run it with the Random Technology cat.

I hooked up with Modern Garage in Salt Lake, since they have one of the only all-wheel drive dynos in the state. They typically deal with Subarus, but they are happy to deal with Jeeps afflicted with the NV249 transfer case.

Ok, how?d it go? I was pleasantly surprised with the results for two reasons. First, at the Gofers age/mileage, she?s still pulling strong, and second, the cat made a significant difference.


Final Thoughts

Random Technology makes a first class product that does what they say it will. You can purchase the cat I put on the Gofer for $232.95 plus shipping from 4wd.com, which offers many other Jeep applications. The cost of a replacement from your Dodge Chrysler dealer? $684. In situations like this, my motto is, ?Why replace Jeep crap with more Jeep crap?? I would recommend this replacement to anyone looking for a catalytic converter.

Who is Random Technology?

Random Technology has been the industry leader in high performance replacement catalytic converters for more than 10 years, and with their growing dominance in the market, it looks like they will be around for a while. They have proven performance gains, and now they can add satisfied Jeep customers to their list to include CJ's, YJ's, TJ's and KJ's.
---