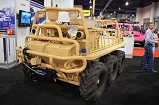 > Reader's Photo


OX5 by Lockheed Martin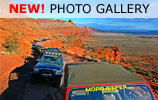 • ADVERTISE WITH US
• WHO IS MOAB JEEPER?

Home > Jeep Articles > General - Extras > Steering Stop Adjustment


General Articles - Extras
---
Steering Stop Adjustment

Article written by Moab Man



Date Added: 06/05/2006



With the addition of larger tires; rubbing of the frame, control arms, or leaf springs can become an issue.

Some of this is corrected with proper backspacing which pushes the tire/wheel further away from the vehicle. Even with proper backspacing you can't always eliminate all rubbing. This is where the steering stop comes into play.
In the picture, 2 is the bolt that is actually adjusted to stop the wheels from turning any further thus avoiding rub. 1 denotes the point at which the bolt (2) hits the limit.


To stop the tire from rubbing, the bolt labeled 2, will be removed. After removing the bolt add a thick washer (3) or two between the nut and the body it was removed from. Screw the bolt back in.


Final Thoughts

Wheels with proper backspacing should always be used with steering stop adjustments to make small corrections.
---