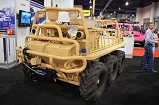 > Reader's Photo


OX5 by Lockheed Martin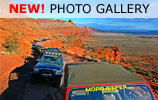 • ADVERTISE WITH US
• WHO IS MOAB JEEPER?

Home > Jeep Articles > General - Product Reviews > Lube Locker


General Articles - Product Reviews
---
Lube Locker

Article written by Moab Man



Date Added: 06/05/2006



Every now and then a product comes along that is so simple in concept you can?t help but smack yourself in the forehead and say ?Why didn?t I think of that?? The ?Lube Locker? is one such product.

So what is it?

The Lube Locker is simply a thin metal band with 3 rows of an elastomer (rubber) laid down upon it.

Installation of this product couldn?t be simpler.

1. Remove your differential cover and scrape all that old silicone RTV sealant off the housing/cover.
2. Place the Lube Locker between the differential cover and the housing and tighten bolts to factory torque specifications.
3. Fill the differential back up.

Now that the Lube Locker is installed, all future oil changes will be far quicker. No longer will you have to deal with messy RTV silicone.


Drawbacks?

I came up with one, but I am reaching a bit here. It could be argued that silicone will stretch a bit maintaining the seal if the lip on the differential cover was peeled away on a rock. But, to argue against my own point, the Lube Locker has 3 rows of elastomer to keep oil in the differential even if the cover is peeled away. It is my opinion that if I pulled the cover far enough to reach the third row of elastomer then nothing is going to save the seal at that point.


Final Thoughts

I love the Lube Locker. Changing differential oil takes less than half the time it did with RTV silicone and no silicone scraping or messy clean up.

Of particular benefit is for those of you that play in the mud and water. We all know that the differential fluid should be changed but like me you probably dread having to deal with the silicone mess. With the Lube Locker installed you can simply loosen up the cover bolts enough to back the cover away, allow the oil to drain, tighten up the cover and refill.

A final bonus if you haven?t caught on, the Lube Locker is reusable many times over. It must be stated that Lube Locker does not endorse or recommend reuse of the Lube Locker according to their website.

To learn more about the Lube Locker and product availability for your axle application please visit www.LubeLocker.com

To purchase the Lube Locker please contact www.nthdegreemobility.com and tell them MoabJeeper Magazine sent you.
---