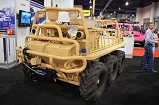 > Reader's Photo


OX5 by Lockheed Martin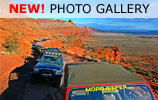 • ADVERTISE WITH US
• WHO IS MOAB JEEPER?

Home > Jeep Articles > General - Product Reviews > General Mud Terrains 33 x 12.50


General Articles - Product Reviews
---
General Mud Terrains 33 x 12.50

Article written by MoabMan



Date Added: 06/14/2006



Everyone would like to have the latest ?cool? tire. Or maybe some Good Year MTR?s, but if it isn?t in the budget, it?s just not there. So what are you to do?

This is where an exceptional off-road tire such as the General Mud Terrains comes in to play at a bargain price. These tires have a 2 ply flexi sidewall with a nicely spaced tread pattern. Shoulder lugs have more spacing than MTR?s for grabbing & lifting on to ledges with every other lug being scalloped. Center tread spacing is about the same as a BFG Mud. Overall grip of the rubber compound is better than the BFG Mud but not quite as soft as the MTR. In the opinion of MoabJeeper Magazine, being between these two off-road mainstays is a good place to be.
As with any mod or product, we like to point out who should & shouldn?t use a product. 

The majority of wheelers are not in need of 3 ply or greater sidewalls so for the greater majority of us this tire will be perfect.

But, if you?re wheeling amongst granite or some other rocky terrain where sidewall slicing is both a real threat and a regular occurrence, then I suggest looking elsewhere for a 3 ply+ side walled tire. 



Cutting to the chase, how much for these tires? 

Through the local Discount Tire I was able to purchase these tires just shy of $100 per tire.

When purchasing these tires through Discount Tire, for an extra $15 per tire, you can get a free replacement hazard warranty covering any on or off-road damage such as a sliced sidewall. Using this warranty once will more than pay for itself.


Final Thoughts

After 9 months of both on and off-road driving, I can say that these tires have held their own against any other tire on the rocks. Road noise has been mild and road wear exceptional, MoabJeeper Magazine definitely recommends these tires.
---