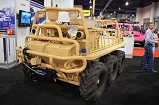 > Reader's Photo


OX5 by Lockheed Martin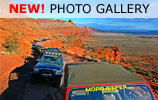 • ADVERTISE WITH US
• WHO IS MOAB JEEPER?

Home > Jeep Articles > General - Projects > Daystar World Challenge Series "Hybrid" Bumper


General Articles - Projects
---
Daystar World Challenge Series "Hybrid" Bumper

Article written by Tom Dube



Date Added: 06/02/2006



I know it may come as a surprise, but not everyone rockcrawls. Unfortunately, the rage in the aftermarket world seems to be around rockcrawling which leaves many without proper functional protective gear.

Protection, Protection, Protection is the name of the game. When it comes to our rigs, we all love to wheel them as hard as our skills and vehicle can take. When it comes to protecting our rigs we install rock sliders, skid plates, gas tank skid plates, grill guards. Many jeeps have grill guards but how much protection do they give you?
Here is a grill guard that is made to protect the winch, radiator and hood... It is a "hybrid" Daystar World Challenge Series. The modifications are the top bar, screen and struts. The top bar is 2" above the hood to protect it during a slow roll over. As you can see a heavy steel screen has been welded between the support struts. This is to protect the radiator from any limbs or debris. Depending on the area that you wheel in or plan to wheel in, your design of a hybrid should be considered. As you know a limb though the radiator will end a great wheeling trip.

There are many grill guards out there but do they protect your rig or just look cool? This article is not targeted at down grading your equipment. It is to help you to look at the level of protection it gives you and your rig.

Materials used for this hybrid grill guard are .125 thick heavy tubing and the screen is also heavy steel mesh material. Welding was done by a certified welder. Also remember to drill a small hole in low areas of tubing, so water from condensation can drain.


Final Thoughts

The bumper and grill guard in this article may not be for you. It may give you ideas that will work to protect your rig on the type of trails you ride. Tree limbs have a way of finding the front of the jeep The areas I wheel in are wooded and swamps. So I hope this helps to give you ideas.
---