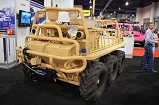 > Reader's Photo


OX5 by Lockheed Martin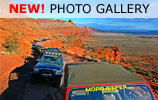 • ADVERTISE WITH US
• WHO IS MOAB JEEPER?

Home > Jeep Articles > General - Trip Reports > First Annual Chili Express Run


General Articles - Trip Reports
---
First Annual Chili Express Run

Article written by MoabMan



Date Added: 06/01/2006



Pony Express from Lehi, Utah to Wendover, Nevada

MoabJeeper Magazine would like to say thank you to Chili for inviting us along to what was (hopefully from the talk at hand) the first annual Chili Express run. Although it was not a challenging run (ok, with the snow having disappeared it was more like a 130 mile race across the desert), it was simply a great time for fellow off-roaders to get together and meet.

The Chili Express run is shrouded in mystery - no not the trail, but the conditions that will be encountered. One week prior to the run Utah's mountains were clobbered with a snow storm that wreaked havoc across the mid to southern regions of the state. With this in mind we were planning to tackle 20" of snow and more in the mountains, but Mother Nature had something different in mind and provided rain, just days before melting away all the snow.

The morning of...

The day was supposed to start with a 4:15 am wake-up, load the Jeeps and meet up with the others from the north of Utah for our 5 am hard roll time that I was to lead. But as I said, that was how it was supposed to work out. Instead it went something like this...

5:05 am Ring Ring Ring (imagine it in some kind of a funky cell phone ring)

"George! Where are you?"

"What?"

"George! Where are you? It's 5 o'clock."

"Huh? What do you want Steve? What time is it?"

"5 am"

"Oh CRAP! I will be right there. Go ahead, I'll catch up."

Followed by a flurry of madness, Icky and I loaded up the Jeeps, tossed my daughter in, and flew out the door.

Five minutes down the road, the two of us folded in the mirrors for clean aerodynamics, leaned forward in our seats for momentum and turned onto the highway racing south, pushing the theoretical speed limits at which a fully-loaded 4 banger Jeep can move. If you're not sure what this incredible speed is, it's about 66-68 mph, barely slower than a school bus.


Once reaching our Lehi, Utah exit, Icky and I pulled up from our barely-making-the-speed-limit race, only to merge with Chili who immediately commented on the CB radio about the "northerners" having just arrived. I'm not exactly sure what it is to be a "northerner" here in Utah, but we we're them.

Now that the whole group for the Chili Express was assembled at the Maverick gas station, we talked a bit of Jeep and then headed off on the day's adventure to relive the dangers of the infamous Pony Express.

For those who don't know, the Pony Express Trail loosely traces the course that the Pony Express riders rode across the deserts of Utah to deliver mail to various locations. These brave riders risked life and limb avoiding the sometimes hostile natives, weather, desert sun, and running out of gas. Ok maybe not the part about running out of gas, but we did.

So what does the trail offer for the modern travelers willing to risk the dangers of Indian attacks?

Along this route there are numerous old structures (not much of them but they are there) to be seen that the riders would stop off at for water, a change of horse, and maybe a Big Mac. Beyond that there is the quiet emptiness and vastness that is the West. Open rolling plains, beautiful mountains, and stinky hot springs boiling up from the ground just waiting to trap the lumbering BrontoDodgeAsorous truck.

The BrontoDodgeAsorous is a massive beast: Dodge Ram 2500, Diesel motor, extended cab with a long bed, and 4 wheel drive. Similar, but of no relation, is the ChevySorous.

Yes, we were fortunate enough to see the natural selection process in action as we stumbled upon a BrontoDodgeAsorous sunk up to its doors in the muck. As we watched the slightly smaller ChevySorous try in vain to pull its compadre, we couldn't help but feel sorry for it. Although smaller in size, six of our Jeeps hooked winches and straps to this beast, trying to free it.


So there we all sat, pulling with all our might, with the BrontoDodgeAsorous being held firm when one of the Jeeps winch lines went limp, then taught, followed by the BrontoDodgeAsorous suddenly breaking free from its potential mucky grave. It appears that one of the Jeeps, suspect the one with the blue winch rope, wasn't actually in 4 wheel drive. It's amazing how much better it all worked when everyone was on the same page.


From there we all pressed on to the town of Collao. I'm not exactly sure where this town is located other than somewhere in the middle of the desert, far from the outside world. With our nine vehicle convoy rolling into town, I believe we must have scared off the natives, or they were waiting to pounce upon us. All around us were signs of human beings, but no actual people. Hmmm... Alien abduction?


With lunch finished, and no hostile attacks from the Callao natives, we moved on to Gold Hill. Gold Hill is a mining town, again in the middle of nowhere, that is still actively mined. Not sure by whom, but it is mined by someone. In Gold Hill the greeting was the same as the Callao natives. Meaning... no one was there either. More and more this was becoming a Twilight Zone episode, - the lone dog barking, no noise other than the occasional rustle from the wind, and no movement or sound of people.


After exploring one of the mines and taking some pictures, we headed for Wendover to get some food, drink and a place to crash at one of the casinos for the night. Arriving in Wendover, Nevada, we quickly learned that all the casinos were full. From there we moved to a back up plan; find any hotel that had room! As we all worked feverishly to find a place to stay, our new friend from Washington state had a far greater need for a cappa-frappa-coffee-cino (I don't know, it's a Starbucks thing.) from Starbucks, rather than food or lodging. Ever had one of those moments where you know you just shared to much information? As we all chided newly named Starbucks on his new nickname, along with his fluffy pretty cappa coffe, he shares with pride that he actually has a Starbucks coffee machine. Oh well, at least there is hope for his Jeep.

With rooms secured, we headed off to dinner to relive the day, have a good laugh, and enjoy the company of all our new friends.


Final Thoughts

Looking back you could say it was a failed four wheeling trip. Mother Nature took away all our snow, there were no rocks, and the boiling hot springs are simply not to be messed with, but in the end it was a great time complete with the majestic Rocky Mountains, ghost towns, plenty of historical sites from the Pony Express days, and the camaraderie of running Jeeps across the open desert.

See you again next year!
---