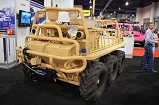 > Reader's Photo


OX5 by Lockheed Martin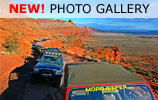 • ADVERTISE WITH US
• WHO IS MOAB JEEPER?

Home > Jeep Articles > General - Product Reviews > HoodLift Review


General Articles - Product Reviews
---
HoodLift Review

Article written by Moab Man



Date Added: 05/11/2006



About a year ago, one of the first products MoabJeeper Magazine set out to test was the HoodLift.

The HoodLift is a hydraulic assist similar to what lifts the rear hatch on some vehicles, but for Jeep hoods.
So why so long on the review?

I'm glad you asked. Initially we had some reservations about this product.

Longevity of the hydraulics
The "Lifetime Warranty"
Weight of the hood
Will the grill support rods hold up?
Would we like it?

Let me address our concerns in order.

Longevity - After one year the hydraulics have held up great baking under the the hood in the desert sun.
Lifetime Warranty - I ran into Jim Piatt, owner of the HoodLift, during Easter Jeeps Safari 2004. Jim says that if you ever have a cylinder go bad simply return it to him and he will replace it free of charge. Your hydraulic must have the HoodLift sticker attached.
Hood Weight - Not an issue at all. Plenty of lifting power from these cylinders.
Grill Support Rods - We were concerned that the rods over time would crack the firewall mounting point. After one year, all is good. To date I have yet to find anyone with a problem.
Like it? - OH YEAH!

With the hood lift set at its highest, most open setting, I have never found a need to lay the hood back against the windshield. But, if you do need to lay the hood back, the hydraulic cylinders easily unclip.


Final Thoughts

Let me say that I truly love the HoodLift. It was not one of those things at the top of my list to have, but working under the hood of the Jeep is considerably safer. Many of us will lay the hood back against the windshield without a second thought and go to work. It's not until the wind catches the hood, slamming it down (hopefully not on you), that you realize how dangerous this is. I, for one, can tell you that catching the hood with your head does not feel good, let alone possibly breaking an arm or hand that happens to be in the wrong place at the wrong time.

We at MoabJeeper Magazine highly recommend this product for any Jeeper who turns a wrench under the hood.
---