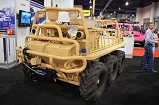 > Reader's Photo


OX5 by Lockheed Martin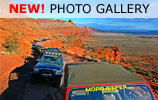 • ADVERTISE WITH US
• WHO IS MOAB JEEPER?

Home > Jeep Articles > General - Product Reviews > Bestop Trail Cover


General Articles - Product Reviews
---
Bestop Trail Cover

Article written by Moab Man



Date Added: 05/07/2006



Anyone with a short wheel based Jeep knows the hazards that can accompany being topless.

As a Jeep owner you just accept it, but what about those overnight downpours? I don't know about you but I hate to get into a flooded Jeep. Fortunately for weenies like me, the Bestop Trail Cover has the protection I need.
The top does a great job at keeping the elements out if you have half doors. If your doors are off altogether rain/snow will get inside the front floor area. Additionally, if the rain is driving sideways the seat will get wet. For this reason I carry a couple of garbage bags to cover the lower half of the seat.

One problem I have seen with the trail cover, this one as well as others, is the tearing of the top seam. In my opinion it's because the straps are a little to tight. On the upside, the tear does not seem to spread any further.


Final Thoughts

This top is great for those that don't have a soft top or prefer to just leave it all at home while on the trail. By rolling it up tight you can fit the cover into a medium sized duffle bag to carry in the Jeep.
---