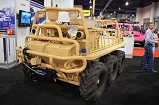 > Reader's Photo


OX5 by Lockheed Martin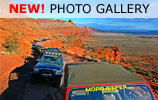 • ADVERTISE WITH US
• WHO IS MOAB JEEPER?

Home > Jeep Articles > General - Trip Reports > The MoabJeeper Experience


General Articles - Trip Reports
---
The MoabJeeper Experience

Article written by RiverHiker



Date Added: 03/23/2008



I moved to Salt Lake City in the summer of 2001, and within 2 months I purchased a 2002 TJ, and went to Moab for the first time a month later. While there, I heard about EJS and got so excited about going.

Coming from southern Indiana, where mud slinging is big, I knew absolutely nothing about rockcrawling. When I got to Moab in 2002 for the first time, I had no idea what to expect.

Sunny (wife) and I were airing down at the Poison Spider trail head when Moab Man, YJ Mike, Mickey, Dodgeman, and of course Turtle Bob showed up and started airing down for the start of their day. I approached the guy that was full of life and smiling ear to ear to see if we should follow. Moab Man said ?Sure; ever done any wheeling?? I said ?yeah back in Indiana.? MM told us some basic things about rockcrawling and some rules that they follow, like no drinking, no trail blazing, pick up trash, and most of all have fun.

We started up the trail and got to the first waterfall. I watched the group go up the waterfall. When it came my turn, I was going to go around and pass on it. MM said ?No way! Just do as I tell you, and every thing will be fine. Your jeep is more than capable of doing this.? At the time I had a 3" Teraflex lift, 32" BFG ATs, 3:73 gears, limited slip, KC lights, tow hooks, and an automatic. They told me that I was set up right to start wheeling and that this was easy. Yea right! I was panic stricken, but after a few tries, up we went.
When the group got up to Wedgie, I freaked. No problem though; MM got me right through with no mishaps. Little did I know that this was just the beginning of a great weekend with tons of laughs and lots of learning. I got to know a lot about rockcrawling around Moab.

This group of people took us under there wing and was great to Sunny and me. My first real introduction to EJS 2002 was GREAT!!!! Yes, I did get my ego deflated lots of times. My pride was run over and turned to dust, but we went home that year with lots of wonderful memories and some new found friends. Sadly, we lost touch with the group.

The next year, Sunny and I loaded up to go to EJS 2003. The Jeep had grown a little, and it now had custom made rock sliders and rear trail rack. We were up on Gemini Bridges road airing down when I noticed a group of Jeeps coming up. I tried to hurry so that we did not get suck behind Red Rock. Then I noticed that this smaller group was in front of a larger group which I knew was RR. To my surprise, I saw MM in the group and yelled at him to stop. He immediately recognized us and asked what trail we were going to do. We were not sure, so MM asked if we wanted to go on Metal Masher. I was excited again but scared by the name.

What a great trail, I thought, right up until we got to Widow Maker. I could not believe that I was going up that. Like MM put it later, I had the ?deer in the head lights? look. After two tries, we went right up.

The next day we ran Kane Creek. That was a fun trail with lots of splashing and the cliff edge that makes you say Oh MY!! Again we were treated with great fellowship and respect. We stayed in touch that year.

By the next EJS, 2004, the Jeep had grown even more and now had an 8000 lb Mile marker winch, custom stinger bar, custom rear bumper, rock lights, steering box skid, and custom tube doors. Things were different this time. The group got large, real large. Some of them were even involved with this web magazine that today is known as MoabJeeper Magazine. Nothing changed though. The people were great, and the wheeling was great.

We ran Hells revenge with turtle bob at the helm. Great guy and what a great spotter too! The day went unbelievably, and we met some new friends. Unfortunately, we did not get to see MM that year. He came down later in the week after we left.

Group photo.

Up until then this was simply a group of friends that went wheeling for fun and to get to see all of the vendors and the Rockcrawlers at EJS every year. This year, the magazine was in full tilt. Even so, I was never treated differently. They still had the same rules and never forgot the new guy.

The following year, EJS 2005, I wheeled with the group, and I also lead a group wheeling. Now that I had some experience, all the things that I had been taught I was using to teach the next generation of Moab rockcrawlers. I'm not an expert by any means. I still struggle sometimes, but it works out in the end. I owe a lot to the MoabJeeper gang. They helped instill a lot of good ethics in the way I rockcrawl in Moab and the way that I try to help others.

Today I have the Jeep up another inch along with stainless braided brake lines, Ox Lockers front and rear, Super 35 kit, 4:56 gears, Bushwacker fender flares, 33" BFG MT, powder coated springs, and a custom shift knob. Every year I try to do a little more with my 2002 Jeep Wrangler.


Final Thoughts

I am so glad that the Moab Gods put me in touch with the best group of people to go wheeling with. I want to say thanks for the great memories that you have blessed me with. See you at EJS 2006 or maybe some other time out there wheeling this grand world.
---