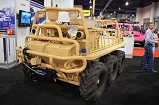 > Reader's Photo


OX5 by Lockheed Martin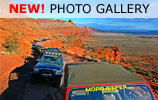 • ADVERTISE WITH US
• WHO IS MOAB JEEPER?

Home > Jeep Articles > General - Trip Reports > It's Time....Easter Jeep Safari 2006


General Articles - Trip Reports
---
It's Time....Easter Jeep Safari 2006

Article written by Moab Man



Date Added: 06/27/2006



Boom Boom Boom

Once again it is that time of the year. That time of the year when Jeeps from all over the world are called to the Mecca of wheeling - Moab, Utah! The calling is so great that not only Jeepers feel the irresistible urge, but all makes and models. Unimogs, Toys, Broncos, Zukis, and some rigs we can't even identify regularly attend. They travel from across the U.S. and around the world, literally.

Now some of you may not be hearing the drums of the Anasazi spirits, yet. So let me help tune your ear, and you will understand why you must come to Moab.
First I must tell you that Moab is an incredible and magical place. The sandstone cliffs stand high above and all around you. They have stood this way for thousands of years bearing witness to all of man's foolish mistakes. For example, where else can a man lose his mind so much that he thinks he can climb vertical walls.

As you can see the laws of gravity still work though.

And what other place can cause so much insanity that a man would take a vehicle small enough to fit in the trunk of a large car and add tires larger than most small cars.

While we're discussing cars, check out this insanity. Here is an AMC Eagle out there kicking Jeeps in the rear. If you come upon this Eagle or its little brother, beware; or you may be walking away with your tail tucked.

Now I must tell you that there is more to Moab than just some of the best wheeling in the world. Moab is very much alive with its stories and Mojo.

This particular grave marker is the source of much legend and Mojo. If you want to hear the story, though, you'll have to come to Moab.

Not everyone obeys the Mojo, and for that a price must be paid!

However, none of the warnings I could ever give you can prepare you for this dreaded beast! I know, it's cuddly and cute and has little whiskers, but don't let that fool you. This creature cannot be trusted.

Sure you may laugh, but every Moab Jeeper can tell you of the dangers of this wretched monster. Late at night it sneaks into camp, mostly when adult beverages are being consumed, and sabotages vehicles. It places evil Jackalope curses upon the vehicles causing spontaneous breakage, sudden rollovers, and other hideous occurrences which cannot be repeated.


Final Thoughts

You may ask, "Moab Man what can we do against this terrible beast?" I am glad you asked, for I have slain one of these beast! The only thing you can do is join me and others as we dance around a campfire, Jackalope head in hand, toasting the Moab Gods with our Jagermeister.

We will see you all on the other side of Easter Jeep Safari 2006.
---